11 February 2022
Australia at Gulfood 2022!
Gulfood - the largest annual F&B sourcing event in the world opens 13 to 17 February 2022 at the Dubai World Trade Centre.
Since its launch in 1987, Gulfood has been an important event for Australian food and beverage exporters – providing a platform to connect with buyers from across the Middle East, Asia and North Africa.
Gulfood 2022 will showcase 4,000+ companies from 120 countries across 21 halls and 100+ award-winning chefs, business leaders and government heads.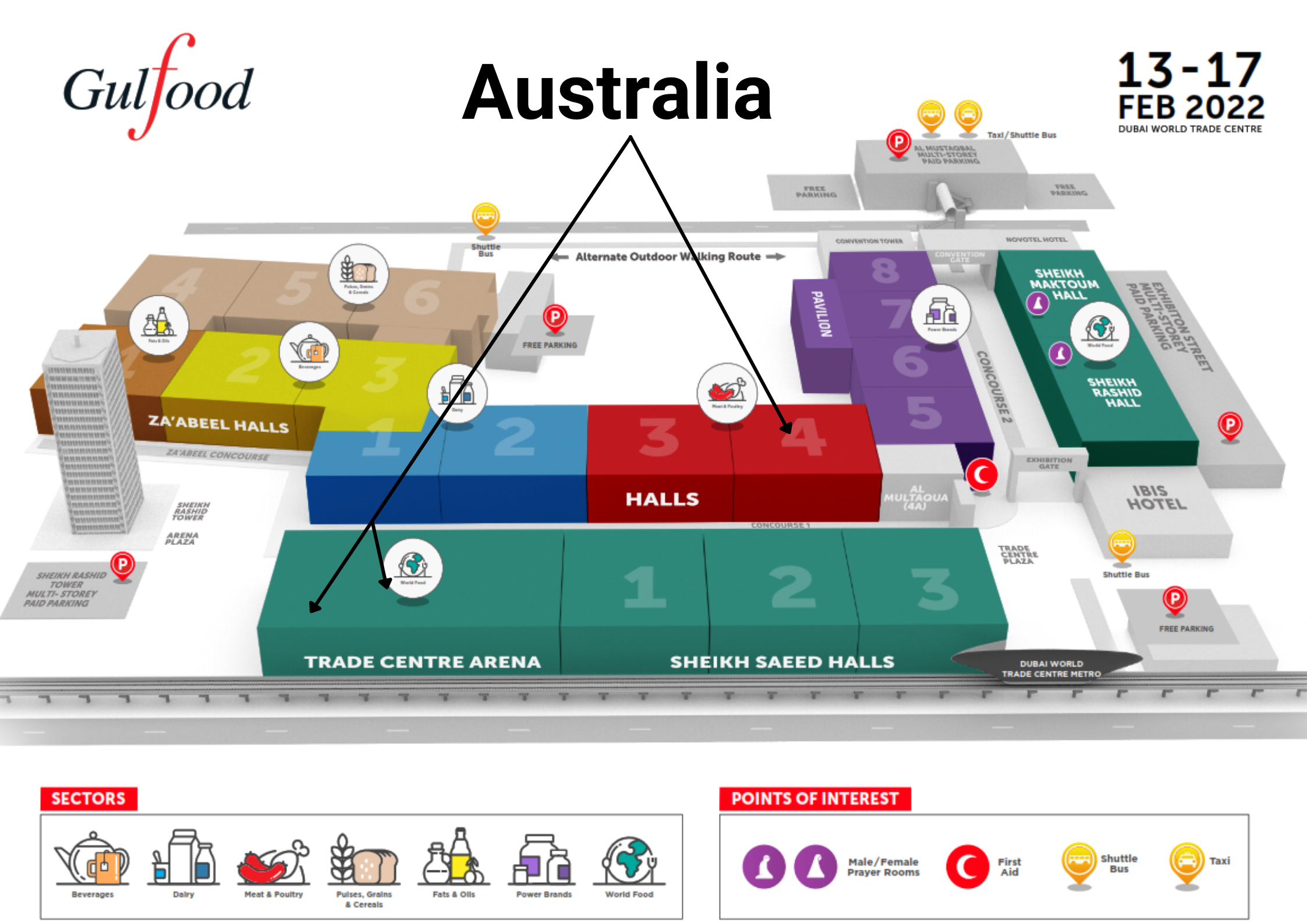 Australian Exhibitors at Gulfood 2022
World Food Sector
Almond Board of Australia - S-N33
ABW Foods - S-M34
Australian Food and Pharmaceutical Industries - S-300
Austrade - S-312
Flavour Creations - S-312
Morlife - S-312
SPC Global - S-312
SunRice Group - S-312
New South Wales Government - S-310
Vitasoy - S-308
Meat Sector
Meat and Livestock Australia -
Cedar Meats - B4-28
Dabbagh Trading Pty Ltd - B4-20
Endeavour Meats Pty Ltd - C4-23
Fettayleh - C4-27
Fletcher International Exports - C4-19
Jacks Creek - C4-21
Karim Overseas Pty Ltd - B4-30
Kilcoy Global Foods - B4-26
Mandel Trading Pty.Ltd - C4-17
MT Food Group - B4-24
Mulwarra Export Pty Ltd - B4-22
Natures Choice Exports Pty Limited - B4-16
Samex Australian Meat Company Pty. Ltd - C4-15
Stella Foods Australia Pty Ltd - C4-29
Teys Australia - C4-25
Downloads and Links:
Want to keep up to date with Gulfood and other food and beverage trade events?
Subscribe to our newsletter - click here.