09 July 2020
Expressions of Interest: Join the Australian Pavilion at Gulfood 2021
Gulfood, Dubai World Trade Centre, 21-25 February 2021
Gulfood is the Middle East's largest annual food, beverage and hospitality exhibition in its 26th year. Since its launch in 1987, Gulfood has been an important event for Australian food and beverage exporters – providing a platform to connect with buyers from across the Middle East, Asia and North Africa.
Although travel is on hold for the time being, we want to ensure that Australian food and beverage suppliers can continue to do business with the Middle East at Gulfood in 2021. The Organising Team at Gulfood recognise the travel restrictions currently in place. They are making provisions for rollover and refunds if travel restrictions are still in effect in February 2021.
At this stage, we are seeking expressions of interest from Australian companies to exhibit at Gulfood in 2021 (on the basis that it is safe to travel). This is so we can determine the space requirements for the Australian Pavilions, as historically Gulfood is a sold-out show.
To register your interest to exhibit at Gulfood 2021 contact Nurziah Masagoes , or click here.
Nurziah Masagoes
Mobile: 0400 999 898
Email: nurziah@exportsolutions.com.au
About Gulfood 2021
Gulfood facilitates connections between food and beverage manufacturers, wholesalers, distributors, retailers, hoteliers and much more. The UAE imports 80% of its food product, of which around 50% are re-exported to Gulf Cooperative Council countries, the Indian subcontinent and Eastern Africa - making Gulfood an important event for F&B buyers from the MENA region. In 2020, Gulfood occupied more than 92,000 sqm of exhibition space, with 92,900 trade attendees (41% from UAE) and 80 Australian Exhibitors – including 5 industry bodies and government agencies.
Links: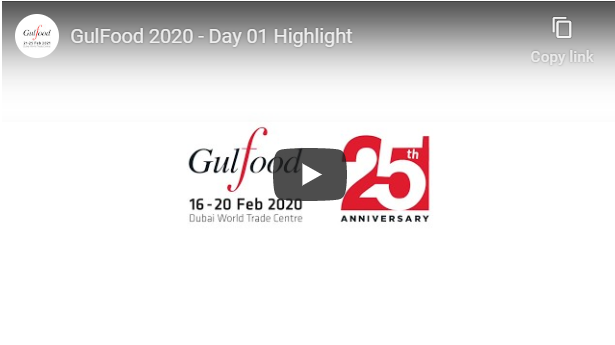 Participation options
Option 1: Australian Stand Package
Your own stand alongside other Australian businesses in the World Food, Dairy and Meat Sectors.
Overhead branding across the pavilion using Australia's Nation Brand.
A walk-on solution with quality lighting and furniture such as lockable cabinet, table, chairs and power point.
The 3m high walls in your stand are reserved for your branding and product message - printing and installation at additional cost.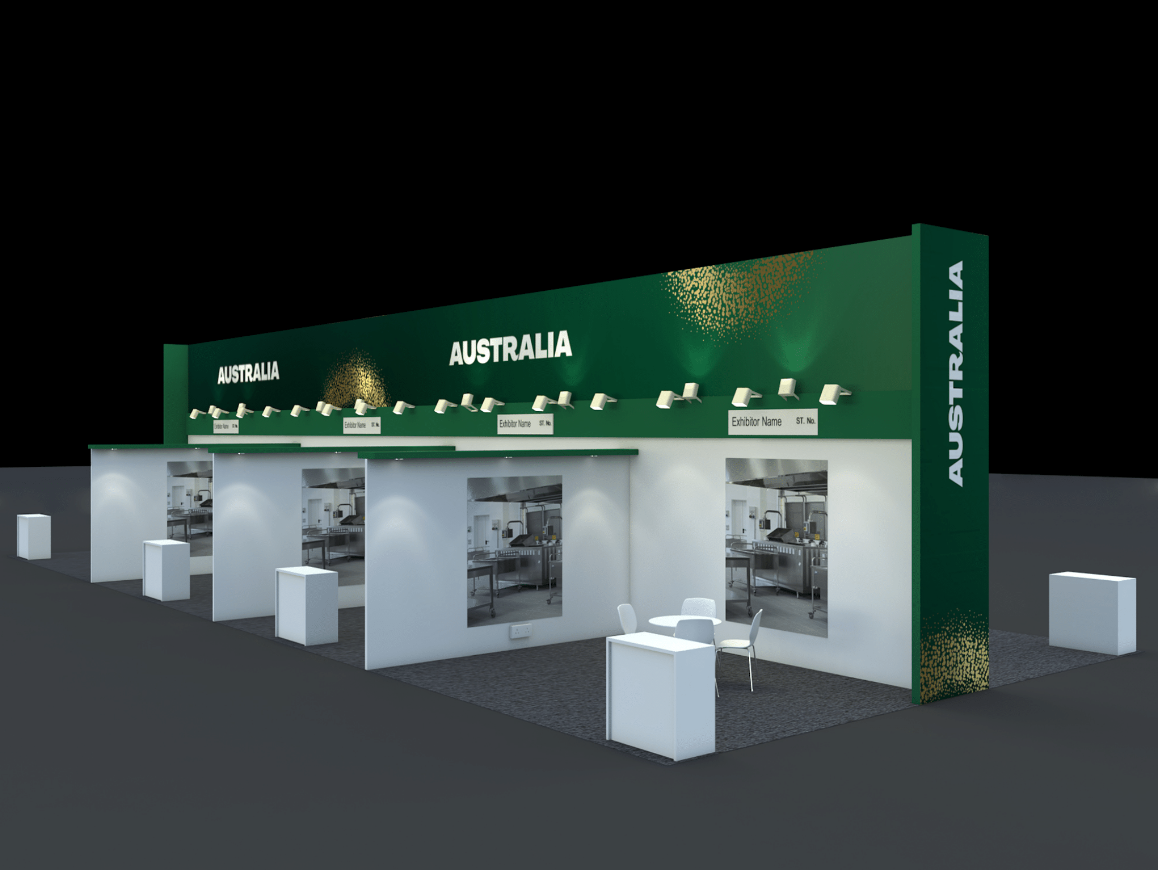 Illustrative only
Option 2: Australian Stand Package
Ideal for large exhibitors who would like to build their own custom stand design within the Australian Pavilion in the World Food and Dairy sectors.
Available for stands from 27sqm in size.
We can assist with design, and obtain competitive pricing from our stand builder.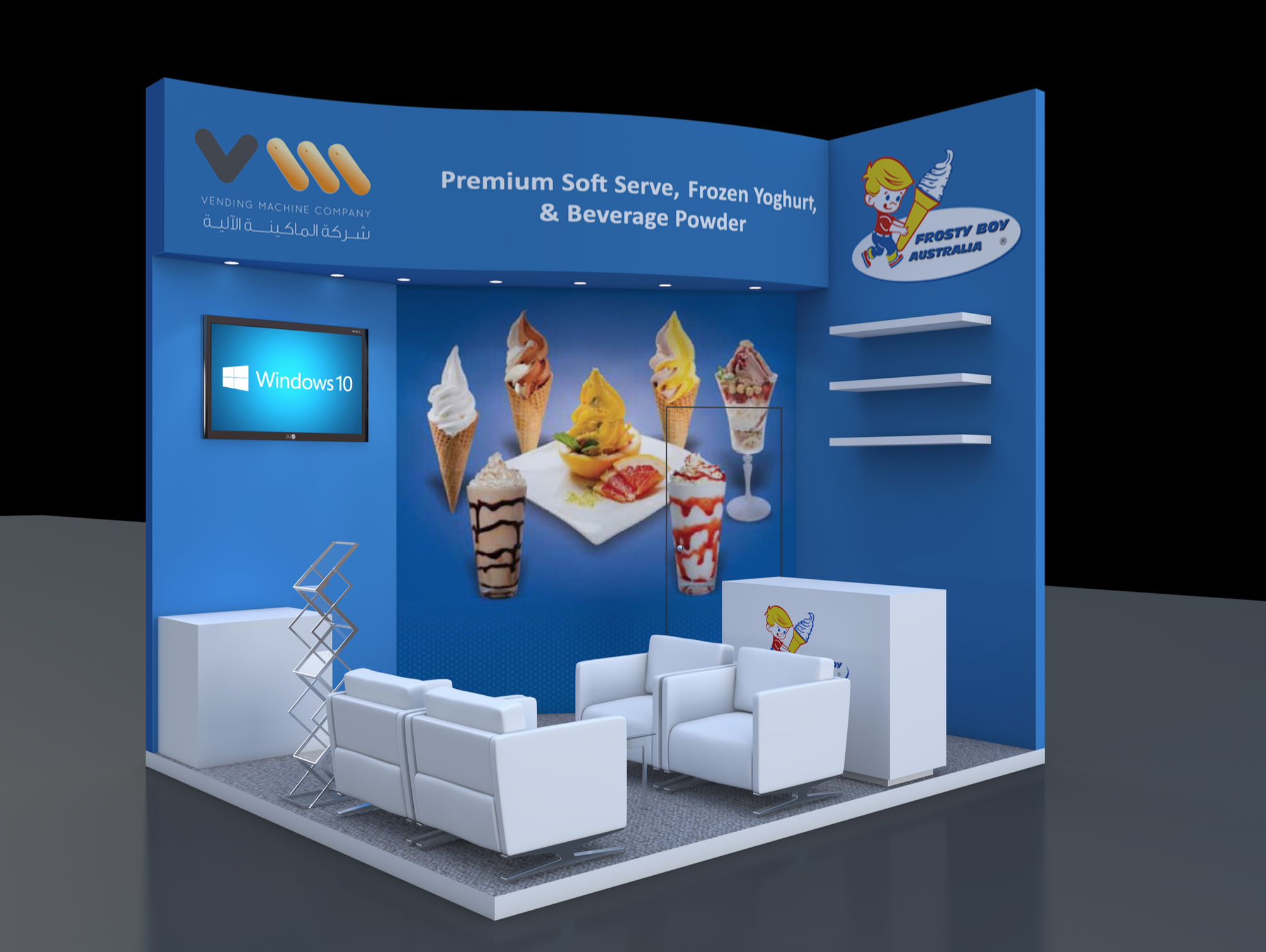 Frosty Boy custom build - illustrative only
For more information on Gulfood visit: www.exportsolutions.com.au/trade-fair/gulfood/